Baby knitting has been on the front burners of late. Unfortunately. there aren't any available photos of anything because everything is to be given to friends who are mothers-in-waiting. I will say that, man, a baby gift made with bulky yarn just flies off the needles.
Thank you for all your "floral" answers to this week's question. It's interesting to read what everyone has to say. My own favorite is
the gardenia. There is, though, a special place in this house for the daisy:
When I told Briton that he was going to be a brother, he asked, "When is she going to be here?" He never changed his opinion that the new baby was going to be a girl. Turns out, he knew before we did! When asked what his sister would be named, again without hesitation, "Daisy." We've never figured out why "Daisy," but it stuck, and the flower and this character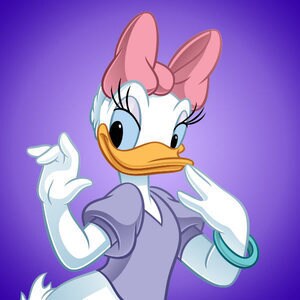 have always meant "Hannah" to us. I took a little stuffed Daisy Duck with me to the hospital when I had her, and we've bought Daisy Duck merchandise just about every time we've seen it since. She's a wee bit scarcer than her spotlight-stealing friend Minnie Mouse, which makes every sighting even more special.