When I said I sort of cheated on this
Chewy
review, it's because I already knew what the verdict was going to be on these Bonito flakes.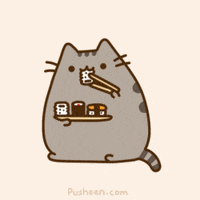 Riley came to us with her toys and litter box and papers and a cannister of Cat-Man-Doo flakes. For a while there, before she got used to living here, they were just about all she would eat. Then, the other cats picked up on the fish scent when I put them out for her, and, before I knew it, they were all listening for that top to come off the cannister. Are you familiar with the cat stampede phenomenon?
So, I could have written this review on the day I asked for the sample. Still, let me make it clear that my cats adore these.
Also let me make clear that I receive no monetary compensation from Chewy.com for my reviews. They are based on my own experiences with their products, and are honest reflections thereof.