Out yesterday to run a few errands, I picked up a late drive-thru fast food lunch for myself. Within 10 minutes of getting home and eating it, I was S.I.C.K. Once everything started, I mustered enough energy to get into the kitchen for an ice pack, which meant all that was left to do was crawl between my bed and my bathroom. For hours.
Then, last night, two of the cats were throwing up and, um, being too slow to the litter box.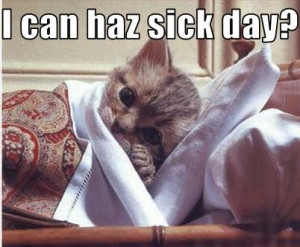 Then, you guessed it,
Rupert.
We're a mess. In every way. And the two unaffected cats have no interest in caring for those of us who are out and down. In fact, they flaunt their good health by chasing each other around and around the house, as if to mock.