Before I had children, I carried purses. Then came years of carrying diaper bags, and I just put any of my necessities in with the babies'. That led to becoming accustomed to not carrying anything but my billfold and my keys.
When Briton's cat got sick, and I was making fairly regular nursing trips to his house, I put together a tote bag with knitting, a book to read --- things to pass the time. It's a "Knit Happy" bag, which was very graciously given to me by
Kathy
: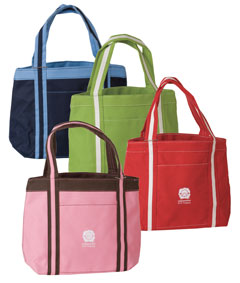 In it are my knitting for this:
The 4-Way Vest from Patternfish,
and this book:
There's a bottle of water, and I usually throw in a cold can of Dr Pepper. My iPod, paper, pen, lip stick/balm, napkins, hand cream, something for headaches, and my phone and billfold if necessary.
What's in your Go Bag?