Since being laid up with these infernal ribs, I've had time to reflect on a few things. First, Monday is the worst day to try and get a call through to a doctor's office. This was a lesson I learned when Briton and Hannah were little, and I would try to get in touch with the pediatrician after waiting anxiously through the weekend. Me and every other anxious parent. It never dawned on me that the same phenomenon would be at work with grown-ups' doctors.
(If I go to the office tomorrow, they'll "try to work me in" sometime during the day. Let the packing of the knitting begin.)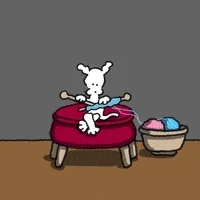 Second, there is surprisingly little one can do that doesn't involve stretching or torquing one's side. Or maybe that's just me. (Lots of wincing going on.)
Third, do any of you remember Colorforms? Colorforms and coloring books got lots of use from me when I was a sick child. LOVED Colorforms. In first grade, my best friend Debbie came along with my parents and me for a weekend in Memphis, and we wore our Colorforms out on the way over and the way back. I wish I had a set right now. Coloring books I've got. I even found an old Spirograph a couple of years ago. But no Colorforms. I'd sigh heavily, but it's painful just now.