Whatever the Weather
It's been a chilly and windy day in Athens, after stormy days yesterday and Monday. None of which I have minded, as bad weather energizes me much more than good.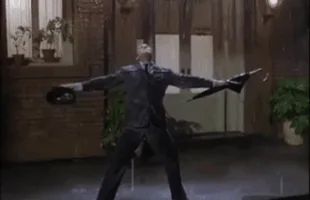 My daughter has also been inspired:
She said this fabric was meant for a baby blanket, but she turned it into a top. That child is a marvel. She sews without patterns. She builds complicated costumes and outfits in her head, and makes them so. It's amazing.
My Maid of Honor lost her sweet father a couple of days ago. He had Alzheimer's, and it was a long, painful decline. Her parents, and her sister, were always great to me, and they've been on my heart all week. Here are the two of us 33 (GULP) years ago:
Do y'all remember hot rollers? And I just realized that I still have that same make-up bag in the top photo (next to the hot rollers and my hatbox.)